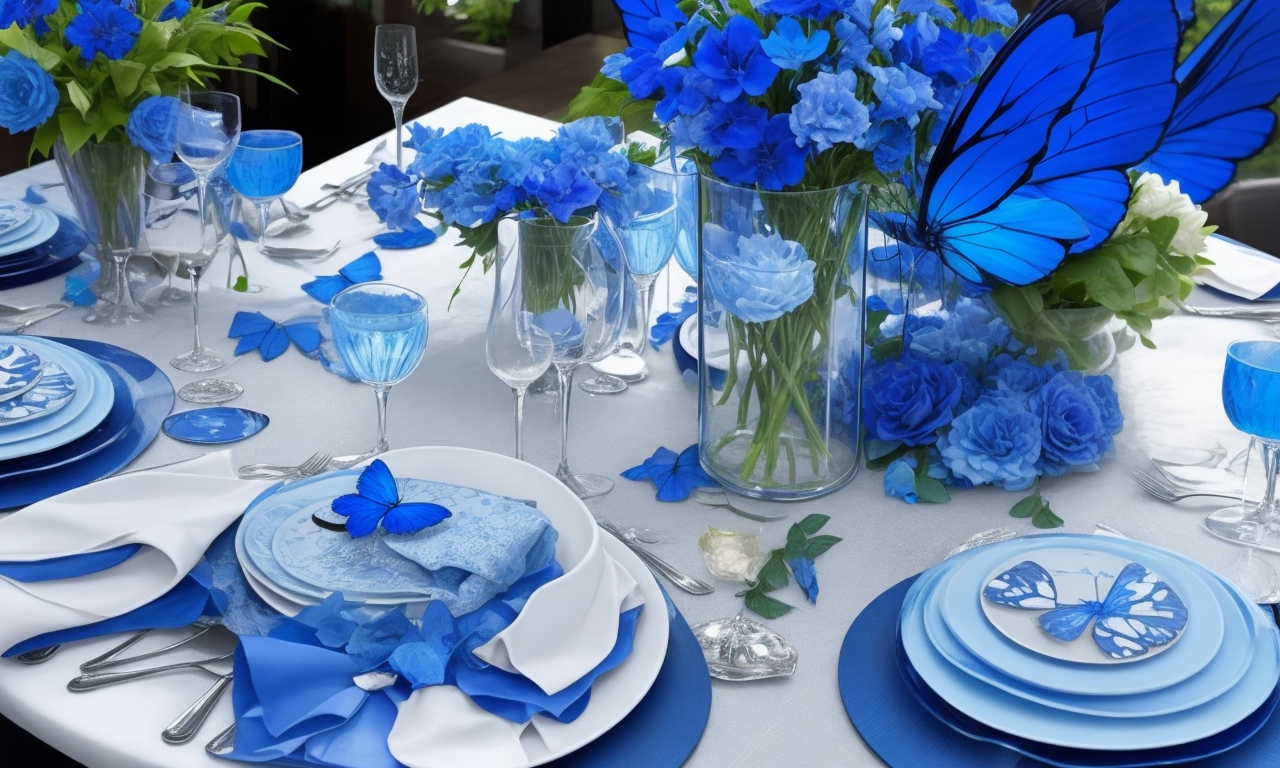 The beauty and grace of butterflies have long captivated our hearts and imagination. Their vibrant colors and delicate wings make them a symbol of transformation and elegance. So, why not bring this enchanting world into your dining experience? Butterfly-themed dining events are a delightful way to infuse magic, nature, and creativity into your gatherings. In this article, we'll explore some enchanting concepts for butterfly-themed dining events that will leave your guests mesmerized.
Garden Party Extravaganza
Transform your backyard or garden into a whimsical butterfly haven. Hang paper butterflies from trees, create floral arrangements with butterfly accents, and set up colorful, butterfly-adorned tables. Encourage guests to wear butterfly-themed clothing for added flair. Consider serving a menu inspired by garden-fresh ingredients and floral cocktails to enhance the garden-party atmosphere.
Butterfly Masquerade Ball
Host a luxurious masquerade ball with a twist by incorporating butterfly masks and accessories. Decorate your venue with cascading butterfly garlands, twinkling lights, and elegant, butterfly-shaped centerpieces. Guests can wear stunning butterfly masks, adding an element of mystique to the evening. A menu featuring delicate, bite-sized appetizers and elegant desserts will complete the magical experience.
Butterfly Tea Party
For a more intimate and refined gathering, a butterfly-themed tea party is a perfect choice. Decorate your dining area with pastel colors, vintage china teacups, and elegant butterfly-themed tableware. Serve an assortment of teas, finger sandwiches, scones, and petit fours, all with a butterfly twist. Encourage guests to don butterfly fascinators and hats for added charm.
Butterfly and Blooms Brunch
Combine the beauty of butterflies with the freshness of blooms by hosting a brunch event. Decorate your space with vibrant flowers and butterfly-themed accents. Create a menu with a focus on fresh fruits, salads, and floral-infused cocktails. This concept is perfect for spring or summer brunches, where the beauty of nature can be enjoyed both indoors and outdoors.
Butterfly Night Under the Stars
Transform an evening event into a celestial butterfly-themed wonderland. Set up your dining area under the stars with fairy lights, lanterns, and hanging paper butterflies illuminated by LED lights. A celestial-inspired menu featuring star-shaped appetizers and cocktails will enhance the enchanting atmosphere. Encourage guests to stargaze or participate in guided constellation watching.
Butterfly Charity Gala
Combine the elegance of a gala event with a butterfly-themed twist to support a charitable cause. Decorate the venue with butterfly motifs, and incorporate butterfly-themed art installations and live butterfly releases. A portion of the proceeds can go towards a butterfly conservation organization. Encourage guests to dress in formal attire with butterfly-inspired accessories.
DIY Butterfly Release Dinner
Organize a DIY butterfly release dinner, where guests can participate in releasing live butterflies into a garden or outdoor space. Create butterfly-themed decor, and provide guests with information about butterfly conservation. A menu featuring sustainable and organic dishes can tie in with the theme of preserving nature.
Conclusion
Butterfly-themed dining events offer a unique and magical way to celebrate special occasions, from intimate gatherings to grand galas. These concepts not only infuse a sense of wonder and elegance into your events but also provide an opportunity to raise awareness about butterfly conservation and the importance of preserving our natural world. So, spread your wings of creativity and host a butterfly-themed dining event that will leave your guests fluttering with delight.